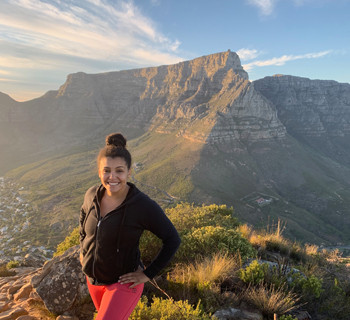 Bonnie-Sue O'Garey
What is your favourite hidden gem in Africa?
The unspoiled beaches of Mozambique! Enjoying the pristine, tropical beaches (pretty much all to yourself) with a fresh coconut in hand, it doesn't get much better than that! 
What is it about Africa that makes it so special?
I may be biased but I really just think that Africa is just an all 'round magical continent. The scenery and natural beauty of the continent mean that whether it be looking out onto the savannah and taking in the raw beauty of the bush, or enjoying a cocktail on the bustling shores of Cape Town, there really isn't a bad view in Africa. 
Bio
Although not knowing a lot about Africa before having travelled, being half Malawian myself, Africa has always had a spot in my heart. It was in 2015 that I decided to make my first journey to Africa where I travelled from Vic Falls – Nairobi and everything in between on an overland camping safari. The warmth and welcome of my first trip (or maybe it was the magic of watching the sun rise over the Ngorongoro Crater in Tanzania) had me officially bitten by the famous Africa travel bug that has since had me return to Africa on multiple different adventures over the past few years.
From taking the craziest plunge in my life that was bungee jumping off Bloukrans Bridge along the Garden Route in South Africa, to sleeping under the stars in Spitzkoppe, Namibia or even just simply soaking up the warmth of the Indian Ocean in Zanzibar, Tanzania I have never had a day in Africa that hasn't absolutely amazed me.
Africa truly is a travel destination that has something for everyone. It welcomes it's visitors with open arms and leaves them with a huge piece of it in their soul forever. 
Email Me
My Top 5 Experience Recommendations