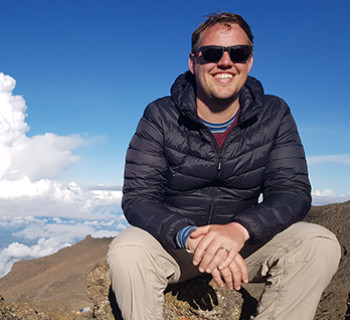 Cameron Neill
What was your most Memorable Africa Moment?
Having breakfast with the giraffes at Giraffe Manor. My wife was so excited that she was unable to sleep and it is a memory that still burns brightly.
What is your Favourite African Hidden Gem?
Whilst Satao Elerai is a simpler lodge than others it has easily one of the best views in Africa. Seeing the sunrise over Kilimanjaro whilst you have a morning coffee (or champagne) is priceless.
Bio
After travelling the world for close to 7 years, Cameron finally made it the continent he had been dreaming of from the beginning and spent three months exploring the different areas of Africa. From then on he was hooked and has since returned many times to explore and experience the many different adventures that Africa offers. From trekking with the gorillas in Rwanda, scuba diving the Red Sea, climbing a sand dune in Namibia to an encounter with a wild elephant from his front deck in the Okavango Delta, he never gets tired of seeing what there is to offer and considers himself lucky to be able to share his experiences with others for a living. He firmly believes that you haven't really travelled until you have experienced Africa and although there are still some small pockets of the world he hasn't been to (and would like to) he travels back to Africa any chance he can. In fact he was in the middle of a gorilla impersonation when he met his wife and believes this may have been what set him apart from many other suitors.
Email Me
My Top 5 Experience Recommendations