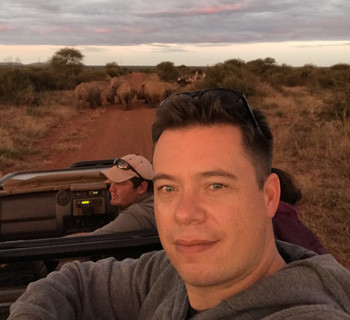 Chris le Roux
What was your most Memorable Africa Travel Experience?
I will never forget snorkelling in the clear waters of Lake Malawi.
What is your Top Africa Travel Tip?
Quality over Quantity. I would recommend spending more time in each place and don't try and squeeze in too much into your holiday.
Bio
Chris is South African born and bred and grew up on a farm in the Drakensberg Mountains of KwaZulu-Natal. He developed a love of the African Bush and Coast because of Caravanning holidays with his family during his childhood. He travelled overland from Nairobi to Cape Town at the age of 18 and decided to study Travel & Tourism and specialise in Africa. Chris travels back to South Africa every year, and has been lucky enough to visit Namibia, Tanzania, Zimbabwe, Kenya as well as visiting Egypt, Morocco & Oman when he lived in Dubai for a couple years. He enjoys Scuba Diving and would recommend an underwater safari in Egypt & Oman. One of his favourite destinations is Sodwana Bay in KwaZulu-Natal where he goes Scuba Diving with family on Africa's most southern coral reef every year. One day he hopes to travel back to the Ngorongoro Crater, climb Mt Kilimanjaro and unwind on Zanzibar to relax sore muscles (and to scuba dive of course).
Email Me
My Top 5 Experience Recommendations