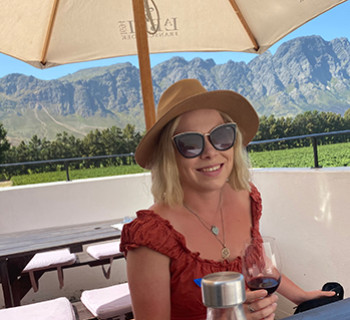 Jordan Stanford
Where in Africa have you travelled?
South Africa
Botswana
Zimbabwe
What is your most cherished travel memory in Africa?
In the Sabi Sands in South Africa, I watched a lioness calling for a mate. Her call was mesmerising and sent shivers down my spine. I watched as she strolled through the bushes, before pouncing out from a bush metres from our vehicle.
Bio
Jordan is our youngest team member. She recently graduated with a tourism and events management degree and has always loved the adventure of travelling, exploring new cultures and exploring out in nature. She has been fascinated with wildlife and nature since she can remember and always feels happiest outdoors. Jordan was fortunate enough to travel for the first time to Africa at the start of 2020 and has been itching to go back since. From bungee jumping off the Bloukrans River Bridge, Sleeping out in the wild, getting tipsy on the Franschhoek Wine Tram, having to opportunity to see so much wildlife on game drives, on foot and by boat, Jordan couldn't imagine a better area of the world to explore.
Email Me
My Top 5 Experience Recommendations