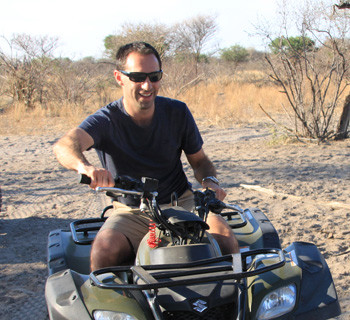 Martin Edwards
What is your Top Africa Travel Tip?
Travelling in the 'Low Season'.  Most people think that travelling in the low season lends to an inferior safari experience. Quite the opposite. Travelling during this time offers more exclusivity as their are fewer tourists, and of course offers a more affordable safari experience. The wildlife is still around during this time and some of my most memorable safari experiences in 'low season'.
What is your favourite hidden gem in Africa?
Very few people visit the Skeleton Coast. An experience here offers an insight to this remote, starkly beautiful area where your time is made up of morning and afternoon nature drives including a visit to the rocky coastline with remains of shipwrecks from years gone by. The experience makes you feel as if you are an early adventurer exploring virgin lunar landscapes.
Bio
Martin has always been interested in Africa – its landscapes, wildlife and people. Martin first travelled to Africa in 2001. His journey began in Nairobi, Kenya and then he spent the next 3 months backpacking alone, using only public transport to get him the 4,000 km to Cape Town, South Africa. Each country Martin visited offered something completely different. Since that first trip, Martin has been lucky enough to return to Africa on a number of occasions, including a flying safari around Namibia, experiencing the turquoise waters of Mozambique, exploring the waterways of Botswana's Okavango Delta, viewing the dancing lemurs of Madagascar and travelling around South Africa in 5 star luxury. Away from safaris, the ancient history and secrets of Egypt has also been a drawcard with 10 separate visits - Egypt is a fascinating destination, hard to believe that it's on the same continent as Africa's safari lands.
Email Me
My Top 5 Experience Recommendations