Trip Summary
Group Size: 2 - 7 passengers
Departs: Weekly on Tuesdays
..................................................
With over 50 years' experience in Africa safaris and Africa tours, Bench Africa offers a wealth of experience and expertise necessary for a seamless safari experience.

One of Bench Africa's best-selling safari tours is the Highlights of East Africa tour, and for good reason. As the name suggests you will experience the highlights of East Africa on this all-encompassing small group adventure to Kenya and Tanzania by road.

No East Africa tour is complete without a visit to the spectacular Serengeti National Park. Spend two nights in the Serengeti withal of its incredible game viewing opportunities. On this carefully designed East Africa tour, you will also visit the world famous Masai Mara and its seasonal annual migration, the breathtaking Ngorongoro Crater and Amboseli National Park standing in the shadow of Africa's highest mountain - Mt Kilimanjaro. This safari tour offers you the opportunity to enjoy 13 days of wildlife and culture on a scheduled small group departure, with a maximum of seven passengers per vehicle.

The Highlights of East Africa tour offers a unique and wonderfully authentic safari experience in one of the world's most beautiful corners. Safari tours in East Africa offer up the opportunity to experience a multitude of landscapes, from wide expanses of savanna plains to volcanic landscapes, and this tour specifically, offers up some of the most bountiful and beautiful wildlife experiences available on the African continent.

Join the Highlights of East Africa tour between the months of July and September to be in with a chance to witness the Great Wildebeest Migration (river crossing), or if you want to avoid the crowds then an East Africa tour will be the best option for you in the months of November to June when tourist numbers are lower.

East Africa Travel, Tours & Safaris with Bench Africa

Established in 1969, Bench Africa is Australia's oldest and most trusted Africa safari specialist. This year we celebrate 50 years of providing stylish, unusual and unforgettable safari tours. That means we have half a century's worth of experience in hand-crafting unforgettable Africa tours, like our best-selling Highlights of East Africa tour. And what's more our parent company is a reputable tour operator on the ground in Kenya, with an office in Mombasa, so you know that you are in safe hands when you team up with Bench for any of your safari tours.
Dates and Pricing
03 Oct 23

$11,140

$12,780

10 Oct 23

$11,140

$12,780

17 Oct 23

$11,140

$12,780

24 Oct 23

$11,140

$12,780

31 Oct 23

$11,140

$12,780

07 Nov 23

$11,020

$12,660

14 Nov 23

$11,020

$12,660

21 Nov 23

$11,020

$12,660

28 Nov 23

$11,020

$12,660

05 Dec 23

$11,020

$12,660

12 Dec 23

$11,750

$13,690

19 Dec 23

$12,295

$14,395

26 Dec 23

$12,430

$14,380

02 Jan 24

$11,595

$13,275

09 Jan 24

$11,335

$12,980

16 Jan 24

$11,335

$12,980

23 Jan 24

$11,335

$12,980

30 Jan 24

$11,335

$12,980

06 Feb 24

$11,335

$12,980

13 Feb 24

$11,335

$12,980

20 Feb 24

$11,335

$12,980

27 Feb 24

$11,320

$12,960

05 Mar 24

$11,295

$12,955

12 Mar 24

$11,295

$12,955

19 Mar 24

$11,295

$12,955

26 Mar 24

$11,235

$12,360

02 Apr 24

$10,495

$10,895

09 Apr 24

$10,495

$10,895

16 Apr 24

$10,495

$10,895

23 Apr 24

$10,495

$10,895

30 Apr 24

$10,495

$10,895

07 May 24

$10,495

$10,895

14 May 24

$10,495

$10,895

21 May 24

$10,545

$10,970

28 May 24

$10,755

$11,395

04 Jun 24

$10,875

$11,645

11 Jun 24

$11,025

$12,065

18 Jun 24

$11,135

$12,365

25 Jun 24

$11,630

$13,280

02 Jul 24

$12,125

$14,190

09 Jul 24

$12,125

$14,190

16 Jul 24

$12,125

$14,190

23 Jul 24

$12,125

$14,190

30 Jul 24

$12,125

$14,190

06 Aug 24

$12,125

$14,190

13 Aug 24

$12,125

$14,190

20 Aug 24

$12,125

$14,190

27 Aug 24

$12,125

$14,190

03 Sep 24

$12,125

$14,190

10 Sep 24

$12,125

$14,190

17 Sep 24

$12,125

$14,190

24 Sep 24

$11,875

$13,770

01 Oct 24

$11,520

$13,190

08 Oct 24

$11,520

$13,190

15 Oct 24

$11,520

$13,190

22 Oct 24

$11,450

$13,050

29 Oct 24

$11,195

$12,575

05 Nov 24

$11,090

$12,370

12 Nov 24

$11,090

$12,370

19 Nov 24

$11,090

$12,370

26 Nov 24

$11,090

$12,370

03 Dec 24

$11,090

$12,370

10 Dec 24

$11,595

$13,140
Disclaimer:
Prices shown are per person based on twin share. Seasonal supplements and minimum night requirement may apply. Special offer pricing has already been applied to the website pricing displayed, unless it is stated otherwise. Solo traveller and extra night prices available on request. Luggage restrictions may apply. International flights not included.
We're loading your experience...
Reviews
Excellent!
My wife and I recently did Highlights of East Africa, followed immediately by Historical Jordan, with Bench. Both tours were excellent! The organisation was first class and almost all the hotels were very good, with an interesting range of properties across both tours. The guides were very good indeed and the way the tours were managed on the ground was outstanding. We had a wonderful holiday and would recommend Bench to anyone thinking of doing tours like this.
The only minor negative was the appallingly bad and inefficient service (in the restaurant and in Reception) at an otherwise beautiful property - the Sopa Lake Nakuru.
Paul
Destination: Kenya
Knowledgeable and Professional
We recently visited Kenya, Rwanda and Tanzania. Bench were recommended by friends and we worked with Steph to organise our trip. Right from the outset her knowledge of travel in Africa and her professionalism were outstanding. Her suggestions, recommendations and travel tips were spot on and made our trip an amazing experience. For example Steph suggested we visit the Gorillas in Rwanda early in our trip. If you are unwell at the time you wish to make the trek, you may not be allowed to visit the gorilla group (to protect them from human diseases). Another factor was that the treks (we did two) can be quite difficult and with our energy levels high early in the trip it was certainly better than attempting the treks after two or three weeks of travelling.
The tours, lodges and tented camps Steph included in our itinerary made for a variety of excellent game viewing and experiences. Also, on one occasion we had a flight cancelled (not booked by Bench) which disrupted our travel plans prior to picking up a tour that Bench had booked. We contacted the Bench "help desk" and they promptly and professionally contacted the tour and transfer companies as well as our hotel for the night to update them on our delayed arrival. In summary, we would highly recommend Steph and Bench for any travel in Africa and wouldn't hesitate to use them again in future.
Ian Willsmore
Destination: Kenya
East Africa Safari/Victoria Falls
Easy company to deal with. Safari was excellent, fantastic sights. Road travel challenging but more than made up for by great accommodation. Extremely knowledgeable and helpful guides.
This was a great trip.
Paul & Kaye Hartley
Destination: Kenya
THE ONLY WAY TO GO!
Fantastic experience from the booking all the way through to returning home!
Shannon Woodward
Destination: Kenya
Had the best time in Tanzania and …
Had the best time in Tanzania and Kenya.
From first speaking with Maria about a year ago to getting home safe and sound and very happy with our experience.
The guides the accommodation the animals the people, everything was more than we expected.
Helen
Destination: Kenya
Tanzania, Kenya, Victoria Falls and South Africa, absolutely AMAZING!
We booked and chose our African experience through our local travel agent. After perusing all the booklets and catalogues available on Africa, Bench International had by far the more comprehensive trips and covered exactly what we were looking for. They covered a variety of levels of accommodation, sights and tour sizes. We were looking for small group, personalised safari's staying in secure accommodation along with a self-drive garden route finish within our budget. Bench put together the most amazing 5 weeks of our lives in August/September this year, covering our total wish list and more. They then provided ALL the information possible in a travel booklet including our itinerary, country information, approximately what amount of money we would require,tipping advice etc that we used like a bible on a daily basis.
We started our trip in Arusha where we arrived at lunch time and had the afternoon to spare. Our Bench advisor 'Charles' who met at us our Hotel after being collected from the airport by our first tour guide 'Edwin', advised us not to leave the secured grounds of our accommodation. At our disappointment of being stuck in a room all afternoon (after 5 flights from Australia over the previous 2 days) Charles went over and beyond our expectations and arranged for a friend to come and collect us and take us for a 31/2 hour walk through Arusha and experience the local people and markets, then onto the local Tanzanite museum. We felt very secure in his company and had the most amazing insight into this city that would otherwise never have been available to us. The next morning 'Edwin' began our 7 day, Tanzanian part of the '12 day Highlights of East Africa' tour including Ngorongoro Crater, Serengeti N/P & Lake Manyara N/P. Bench matched us perfectly with another couple of similar age and personality to make our small group tour extremely enjoyable - and found us new life long friends. Edwin had over 10 years experience as a tour guide and was extremely knowledgeable and could not do enough for us before leaving us at the Kenyan border for 'Freddie' our next very experienced tour guide. Freddie took us on to Amboseli N/P, Masai Mara Game Reserve, Lake Nakuru & Nairobi. By the time Freddie completed our Highlights of East Africa tour, we had seen ALL of the Big 5, some several times over! This included a Lioness killing a Warthog, Leopard attack on Gazelle, mating Rhino's & Lions, many Elephants and Buffalo on a daily basis - ALL at very close range. AMAZING! From here we flew to Zimbabwe for 4 days at Victoria Falls Safari Lodge. We are so glad Bench offered the extra optional activities of a Helicopter flight over Victoria Falls & the Zambezi River which gives a whole different appreciation of this landscape from the sky; Elephant Back Safari and Lion encounter which gave us very personal time learning about these amazing animals and walking/riding with them through their natural environment and not in caged areas. From here we flew to Cape Town and on our own began a 12 day self-drive Garden Route trip. With a suggestion list from Bench we explored Cape Town, the Winelands and the garden route up to Port Elizabeth. Our hire car & accommodation once again was perfectly arranged to our taste and budget.
During our trip we stayed in top hotels, tented lodges and on a coffee farm. All this accommodation was immaculate, well presented and many provided 3 meals a day including a packed lunch box on the days we were on Safari drives. At no time on our tour did we feel unsecure as our guides were local people with great local knowledge. Everything went perfectly to plan with our very experienced tour guides Edwin and Freddie offering over and above what we expected. We would highly recommend Bench International to anyone and if we were ever to return to these beautiful countries would never travel with anyone else. Thank you Bench and your tour staff for a once in a lifetime most amazing holiday to Africa.
Rob & Carleen Hargreaves, Queensland
Carleen Hargreaves
Read more
Read Less
Interested?
Send us an enquiry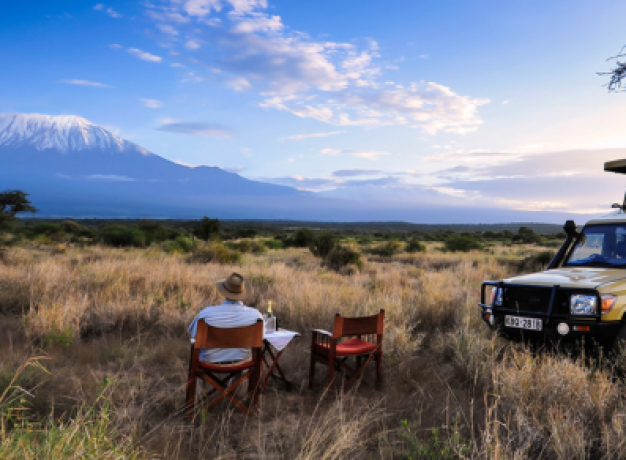 Highlights of East Africa Tour