About Us
"Karibu" and welcome to Bench Africa, Australia's oldest and most trusted Africa travel specialist, where passion meets expertise, culminating in seamless safari experiences. With over 50 years in the industry, and centuries of collective industry knowledge, we take pride in curating exceptional journeys that transport you to uncharted realms of exploration with thrilling wildlife adventures and immersive cultural experiences.
Who is Bench Africa?
At Bench Africa, we are more than just a travel company - we are a family that has been at the forefront of curating safaris in Africa for over half a century. With our award-winning team of dedicated travel experts, we are committed to providing personalised service and crafting tailored travel itineraries that go above and beyond your expectations. With exceptional destinations, bespoke adventures, exhilarating wildlife encounters, and authentic cultural exchanges, no one is better placed to show you the land that has captured our hearts.
The Bench Africa Team
What sets the Bench Africa team apart? Our unwavering commitment to excellence and our deep love and respect for Africa and her islands. We are not travel agents but passionate safari specialists who live and breathe Africa. Our deep connection to the continent means that every experience we create is infused with passion and authenticity. Our team is dedicated to going above and beyond to make your safari dreams a reality. We are passionate about sharing our knowledge, guiding you through the planning process, and providing attentive support from start to finish. We take pride in our relationships with our clients, many of whom have become repeat customers and lifelong friends.
Why Choose Bench Africa?
When you choose Bench Africa, you can be confident that you are in safe hands. Bench Africa takes great pride in being among a select few companies in Australia that own ground operations in Africa. Bench Africa's family-owned company portfolio includes ground operations in Kenya and Satao Camp, a safari camp in Tsavo East. This direct ownership sets us apart and reinforces our commitment to delivering exceptional experiences on the ground, guaranteeing that we always have our finger on the pulse. They are our eyes and ears, constantly updating us on the latest developments in camps, wildlife conservation and the political climate. This invaluable connection allows us to deliver up-to-date and well-informed experiences to our clients. With your safety and well-being in mind, we have implemented comprehensive Safe Travel protocols in response to the new travel environment. We work closely with our trusted partners and accommodations to ensure the highest hygiene and safety measures are in place throughout your journey.
But it doesn't stop there. We know that a knowledgeable and personable guide can make or break a safari. That's why we carefully select our partners in Africa, those with experienced private guides who are experts in their field and warm and delightful travel companions. They bring Africa's stories to life, sharing their insights and passion along the way.
With Bench Africa, your journey becomes more than just a vacation. It becomes a captivating story that unfolds as you explore Africa's wonders. Let us set the stage for your adventure, and together, we'll create a truly remarkable experience.
---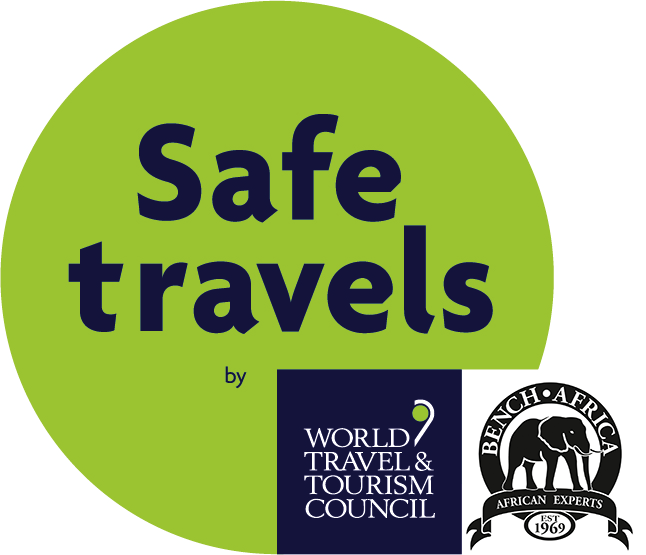 Bench Africa is committed to CATO Covid-Safe Protocols based on guidelines published by the World Travel & Tourism Council (WTTC).
---
These new protocols, put forward by the Council of Australian Tour Operators, are supported by medical evidence and have been developed with the help of governments and public health authorities, along with leading tour operators from around the world, to help with safe travel throughout the Covid-19 pandemic. The protocols focus on three key areas: operational and staff preparedness, delivering a safe experience, and rebuilding trust and confidence. Recommendations include signage, staff training and sanitation, health and hygiene, social distancing, contactless payment, contact tracing, and communication.
---
Why Travel with Bench Africa?
---
TAILORED TO YOU
We take the time to understand what you enjoy so we can create the perfect holiday for you.
RENOWNED SERVICE
With a legacy spanning over 50 years, Bench Africa has established a reputation as Australia's premier Africa safari specialist.  Our track record of crafting stylish, unique, and perfectly seamless African holidays has been recognised and celebrated, culminating in the prestigious title of 'Best Specialty Wholesaler' at the highly esteemed National Travel Industry Awards.
FIRST-HAND KNOWLEDGE
Every member of the Bench family has a true passion for Africa and has travelled extensively throughout the continent, with many having lived and worked there.
We believe in the power of tourism to protect Africa's incredible wildlife and cultures. Through our ethical tourism approach and commitment to our 'Big Five' Pillars, we ensure that your visit benefits local communities and preserves the natural beauty of the destinations you explore.
WE BELIEVE IN VALUE
At Bench Africa, we go above and beyond to offer unbeatable value to our clients. Drawing on our extensive first-hand experience and longstanding supplier relationships, we provide insightful advice that ensures you get the most out of your African adventure, and our quality of service and expertise makes our value for money very hard to beat.
OUR COMMITMENT TO YOU
Bench Africa has the experience and knowledge of Africa to ensure that any holiday booked with us exceeds your expectations! We have designed tailor-made itineraries for thousands of very happy clients over the years because we understand that this may be your 'once-in-a-lifetime' dream to travel to Africa. It is our job to ensure that it is everything you dreamed it could be... and more.
Don't just take our word for it... make sure you take a peek at our independent customer reviews on Trustpilot.
---
We look forward to helping you choose the African experience that suits you, whether you've been before or are going for the very first time.
---
All Part of the Bench Africa Service

Expert Consultation
Bench Africa offers a no-obligation, fully personalised, valuable and friendly consultation with one of our Africa experts who will tailor-make a specialised itinerary to suit you and your requirements.
-
Booking
From flights to accommodation, tours and transfers to a range of exciting activities, we offer a one-stop-shop for booking your Africa adventures. We aim to exceed every expectation.

Documentation
We send out your personalised safari documentation for you to take on your travels. These little touches make your safari experience even more special, and your documents are the perfect keepsake!

24/7 Support While Travelling
We have offices in South Africa and Kenya and a 24-hour Bench Africa Emergency Support Desk in Australia. We are with you every step of the way until you land safely back in your home country.
---
The History of Bench Africa - The Experts in Africa Travel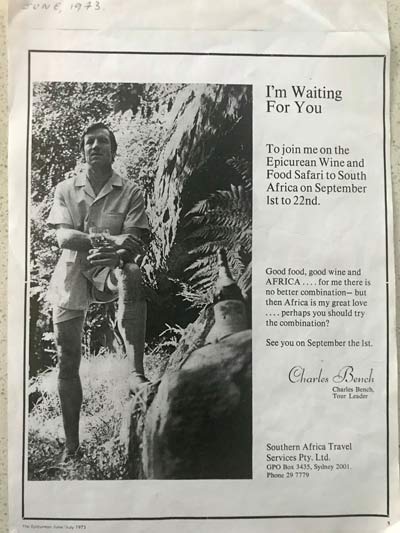 The story began when Charles Bench arrived in Australia in 1969 to play tennis while taking a break from his duties as Sales Manager for South African Airways in London. During his visit, Charles discovered a surprising gap in the market. He realised that Australians were not yet travelling to Africa. So driven by his passion for the continent, Charles made a life-changing decision. In March 1969, he took a bold leap and established the very first Africa travel company in Australia - Bench Africa, known then as Bench International.
Interest in South Africa exploded in the '70s. For the next 38 years, the company grew from strength to strength with Charles at the helm surrounding himself with a strong team of Africa travel specialists sharing his passion for Africa and cementing Bench's reputation for being the "Africa Experts".
When Charles retired in 2007, Bench Africa experienced a change in ownership, marking a new chapter for the company. Southern Cross Safaris, a highly respected Kenya-based ground operator renowned for delivering exceptional safari experiences, acquired Bench Africa. At the helm, another sportsman, Mike Kirkland, a celebrated Kenyan rally driver famous for his successful rallying career in the 1970s and 1980s. Driven by his passion for adventure and profound connection to the African continent, Mike's legacy extends beyond motorsport as he established a portfolio of Africa travel businesses across three countries and two continents. The strategic union between Bench Africa's expertise and Southern Cross Safaris' on-the-ground experience has solidified Bench Africa's standing as a trusted leader in the Africa safari industry.
Charles Bench lives on, not only in name but in the very fabric of our being at Bench Africa, and his principles of 'an in-depth knowledge and passion for Africa' will never change. His values are the foundation of our exceptional service, ensuring that every aspect of your experience reflects our profound understanding and love for this remarkable continent.
---
See what our customers say on Trustpilot.
SaveSaveSaveSave
SaveSave
SaveSave
SaveSave
SaveSave
SaveSave
SaveSave
SaveSave
SaveSave