Request a Brochure
Start Planning your Dream Africa Holiday today!
Download our 2020/21 Africa brochure here, or we can deliver it to you for free.
Travel has a habit of moving us in ways that very little else can, challenging our perceptions of the world the more we are exposed to new cultures and surroundings, and in Africa visitors are not only welcomed but deeply cherished.
Tourism is a vital tool for protecting Africa's wildlife and local communities, and the more visitors who choose to go on a safari with Bench Africa, the more impact we can have on a local level. That's why we make it our business to convey a fresh twist on the better-known places and uncover travel destinations in Africa that you may not yet be aware of – these are the areas that need our help most of all. These are just some of the values at the heart of our 'Big Five' pillars of responsibility:
Benchmark - Our commitment to consistent, outstanding levels of service
Empower - Our commitment to social wellbeing
Nurture - Our commitment to the welfare of the environment
Conservation - Our commitment to protecting Africa's wildlife
Heart - Our commitment to charitable giving
It has given us the greatest pleasure over our 50+ years, to show our Australian visitors the very best that Africa has to offer, and it fills our soul to give back to our beautiful host countries every time.
We are incredibly grateful to everyone who has shared that journey with us, and for those who haven't yet joined us on this journey of a lifetime, we look forward to helping you embrace the road less travelled. So, whether it's your first safari or your tenth, I guarantee we can and will design a seamless and unforgettable experience.
Mike Kirkland
Chairman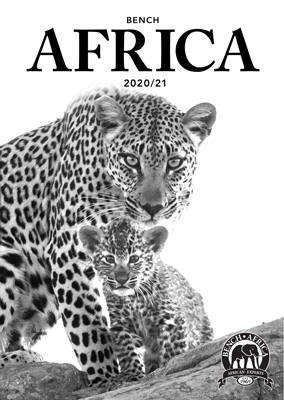 2020/21 Brochure
Please be aware that with all the recent uncertainty around the timing of borders reopening we have made the decision not to release a new brochure for 2022. In the meantime we are happy to send you our 2020/21 brochure and invite you to consult with our team for updated pricing.
---
If you're like us here at Bench Africa, you simply can't wait to get back out there and immerse yourself in other cultures, interact and support the locals, and discover new enriching travel experiences. 
---
And so, if you're thinking about your next holiday, you're in luck; we've got a wide selection of small group tours in Africa, but we can also tailor make your dream Africa journey.
---
The post-covid travel experiences in Africa are endless. You can view the world-renowned annual animal Migration in Kenya and Tanzania, take a walking safari in the remote reaches of Zambia, visit the iconic Victoria Falls or the picturesque city of Cape Town. For the adventurous, scale Mount Kilimanjaro – Africa's highest mountain, or track the mountain gorillas in Uganda and Rwanda. Then there is no better way to unwind after your safari than on the white sandy beaches of the Indian Ocean. Discover the exotica of Zanzibar, untouched islands of Mozambique, or splash out on a luxury resort experience in Mauritius or Seychelles.
---
Looking for inspiration? Check out our best selling safaris at the front of the African safari brochure. Our specialty is tailor made safaris so just reach out to one of our friendly Africa travel experts and we will design an entirely personalised, ethical and safe post-covid travel experience in Africa, just for you. 
Postage Info
We'll send your selected
brochures to you.
Please send me: