Trip Summary
Group Size: Based on minimum 2 passengers
Departs: Daily
..................................................
Makweti Safari Lodge is a luxurious intimate camp in the malaria-free Welgevonden Private Reserve, a three hour drive from Johannesburg. Five unique, secluded thatched and stone suites, individually decorated with antique treasures and plush furnishings ensure an elegant and intimate experience, accommodating just 10 guests. Rooms offer indoor and outdoor showers, Victorian bathtubs, log fires and private decks, some with plunge pools. Diverse wildlife, including the 'Big Five' (lion, leopard, rhino, elephant and buffalo) and over 300 species of birds can be seen on the reserve. Discover spectacular scenery, excellent game viewing in open 4X4 vehicles or on walking safaris in pristine wilderness. Children over 12 years are welcome.
The reserve is home to lion, leopard, elephant, buffalo and rhino. Other rare species such as brown hyena, aardvard, honey badger, cheetah and blue cranes find refuge in this conservation-conscious area. Take full advantage of the best times of the day for game viewing, dawn and dusk. Open safari vehicles with expert guides offer prime viewing experiences and an educational opportunity. You can also enjoy walking safaris with an armed guide. Close inspection of insect rituals and the identification of tracks are some of the myriad possibilities presented on these safaris.
Dates and Pricing
25 Nov 23 - 14 Dec 23

$2,425

$3,135

15 Dec 23 - 31 Dec 23

$2,595

$3,325
Disclaimer:
Prices shown are per person based on twin share. Seasonal supplements and minimum night requirement may apply. Solo traveller and extra night prices available on request. Luggage restrictions may apply. International flights not included.
We're loading your experience...
Reviews
Wonderful South Africa
We had a wonderful trip and everything worked perfectly. Both Garonga and
Makweti
were excellent choices and staying more days at fewer places allowed us to
enjoy more of the African bush,animals and atmosphere instead of hurrying
from one camp to the next. Both camps had good waterholes which animals
visited frequently so even though Garry did not go on every drive he saw
plenty of animals. I always look for a camp with a waterhole. We saw the big
five at Garonga - terrific leopard sighting in a tree above our vehicle and
then a leopard fight and the looser just missed falling in our vehicle. No
leopard at Makweti but plenty of animals and easier travelling on Makweti
Safari. At Makweti we had an elephant drinking from one of the swimming
pools.
Food was very very good at both places and accomodation wonderful. The sleep
out at Garonga Is a must do. Exciting and a little scary but a great
experience We saw three lions at the dam I fronton the sleep out while
having dinner. They gave us a whistle and foghorn to scare away the animals
if necessary! They have not lost anyone in twenty years so I guess it all
works.
We probably liked Makweti a little more but it was a close choice. The food
was exceptional at Makweti seeing animals a little easier and zebras walking
under our deck wonderful. Test our guide was exceptional and made every trip
fun . We had three different guides at Garonga which I though al little
strange although it did not worry us too much but the last guide we had was
the best. At Garonga the drinks were paid for and we could help ourselves
which is an advantage. At Makweti we had to pay for drinks which were a
reasonable price but you needed someone to serve you. Note at Makweti there
is NO phone reception which did not worry us.
At both places there is wifi in the main meeting areas Moore Quarters was
once again great. I would recommend staying there. Easy walking to great
restaurants and shops and supermarket and pharmacy near by . We walked to
the waterfront And also used the free shuttle . Breakfast was very good
Thanks for organising a fantastic holiday
Bench organised a truly wonderful holiday and everything ran smoothly. I cannot wait to see more
Of Africa.
Michele O'Connor
Destination: South Africa
Interested?
Send us an enquiry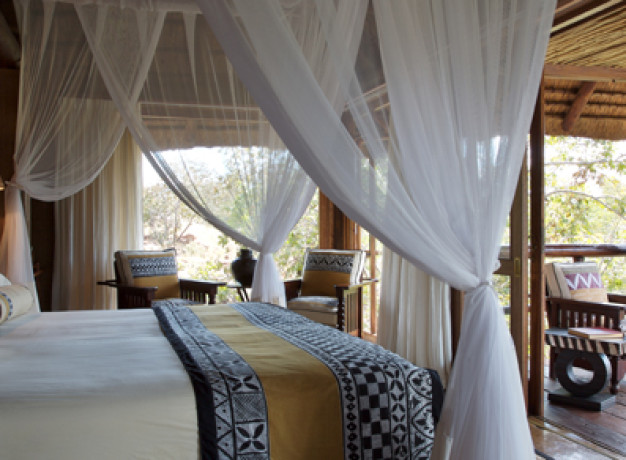 Makweti Safari Lodge