Trip Summary
Departs: Daily
..................................................
This deluxe 5 star airport hotel features 196 beautifully appointed rooms and suites, with a Club Floor and lounge, providing convenience, regal comfort and additional benefits. Facilities include a luxurious health and beauty spa, restaurant, outdoor pool, pool bar, tennis courts and access to the resort retail and dining centre and complimentary airport shuttle transfers.
Dates and Pricing
02 Dec 23 - 31 Dec 23

$230

$415

01 Jan 24 - 31 Dec 24

$270

$495
Disclaimer:
Prices shown are per person based on twin share. Seasonal supplements and minimum night requirement may apply. Solo traveller and extra night prices available on request. Luggage restrictions may apply. International flights not included.
We're loading your experience...
Reviews
Our African trip was a delightful …
Our African trip was a delightful experience
Sue Gardiner
Destination: South Africa
Over 4 weeks 'safari' in Africa
Over 4 weeks 'safari' in Africa, all planned and booked with Bench's help, and not a glitch. Apparently, this is pretty unusual for anything in Africa! Their knowledge and expertise in providing an appropriate itinerary to match our needs (animals and scenery, not civilization) ,and in setting the appropriate expectations for our holiday, made for a very smooth and extremely enjoyable experience. There were 4 of us travelling in a group, which turned out to be optimal for virtually all aspects of the journey through Botswana, Zambia, Tanzania and Kenya (with a small break to finish in Zanzibar). The accommodation was perfect for our needs, well chosen to optimise our time in each location, with daily excursions focused on what we wanted to see. Thoroughly recommend.
G&R
Destination: Botswana
THE ONLY WAY TO GO!
Fantastic experience from the booking all the way through to returning home!
Shannon Woodward
Destination: Kenya
Southern & East African Safari Review
The plan - all of the places Bench sent us to had their own individual style and character which provided a rich and diverse experience.
They provided expert advice on temperatures and clothing choices for each safari.
The timings recommended by Bench; I.e doing the Southern African safari first guaranteed that we would see some of the Wilder beast migration during our East African safari.
The first two camps in Botswana gave us a close up of the animals we had come to see, because they had private concessions which allowed the cars to go off-road.
Kadizora & Linyantee bush camps were both excellent, and the Chobe Princess was very relaxing and had excellent game viewing.
Flights between camps in the Southern safari really optimised our game drive time and worked well.
The two hotels in JBurg and the Royal Livingston were good.
All the camps in the East African safari were good and whilst the game viewing was on-road; Ngorongoro, Ambercelli, the Serengeti and Masi Mara all delivered great viewing.
Karen Blixon was the pick of the Eastern safari camps.
Edward Binney
Every experience was better than the next
We were in Southern Africa for 2 weeks and everything ran smoothly. Everything ran on time and we never had a worry. Would recommend bench to anyone
Dianne and Craig Punshon
Destination: South Africa
Read more
Read Less
Interested?
Send us an enquiry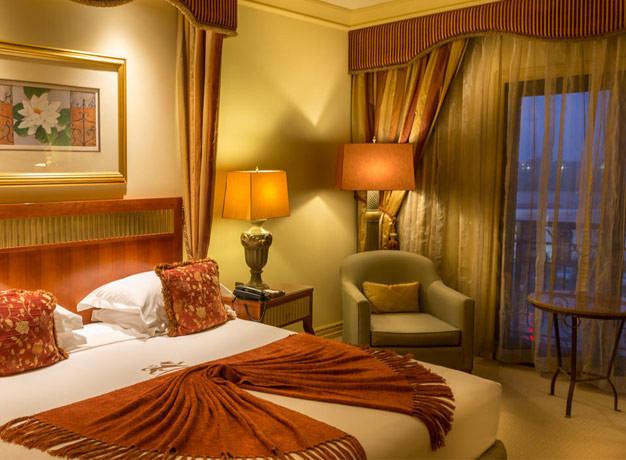 Peermont D'Oreale Grande