Trip Summary
Departs: Scheduled departures during the year
..................................................
The Blue Train, voted Africa's leading luxury train, has an aura of mystique about it. Kings and presidents, celebrities and honeymooners have all travelled on this magnificent rolling five star hotel, and the name has become synonymous with the ultimate in luxury train travel. Experience a world of grace, elegance and romance from a bygone era in the magnificent suites, elegant lounges and fine dining. Each suite comes with the finest bed linen, and en-suite marble tiled bathrooms, and your very own personal butler is on hand to attend to every need.

The perfect alternative to flying to or from Cape Town, The Blue Train transports you between Pretoria and Cape Town in both directions, on a 39-hour journey of 1,600 kms, travelling through some of South Africa's most diverse and spectacular scenery. Begin the experience from the moment you arrive at the departure lounge, where you will find a warm-hearted welcome sets the wheels in motion for a voyage defined by the hallmarks of personal attention and detail, with ease of check-in and relaxation before stepping onboard.

The luxury suites extend your personal domain by more than a metre, and the twin or double-bed suites offer deep, long baths for slow, luxuriant soaking. The suites extend the choice of radio and movie channels even further by including a private digital entertainment centre and an inviting selection of music CDs and big-screen movies on DVD.
Dates and Pricing
23 Oct 21

$3,240

$4,860

28 Oct 21

$3,240

$4,860

30 Oct 21

$3,240

$4,860

04 Nov 21

$3,240

$4,860

11 Nov 21

$3,240

$4,860

18 Nov 21

$2,595

$3,895

20 Nov 21

$2,595

$3,895

25 Nov 21

$2,595

$3,895

27 Nov 21

$2,595

$3,895

02 Dec 21

$2,595

$3,895

09 Dec 21

$2,595

$3,895

16 Dec 21

$2,595

$3,895

18 Dec 21

$2,595

$3,895
Disclaimer:
Prices shown are per person based on twin share. Seasonal supplements and minimum night requirement may apply. Solo traveller and extra night prices available on request. Luggage restrictions may apply. International flights not included.
We're loading your experience...
Interested?
Send us an enquiry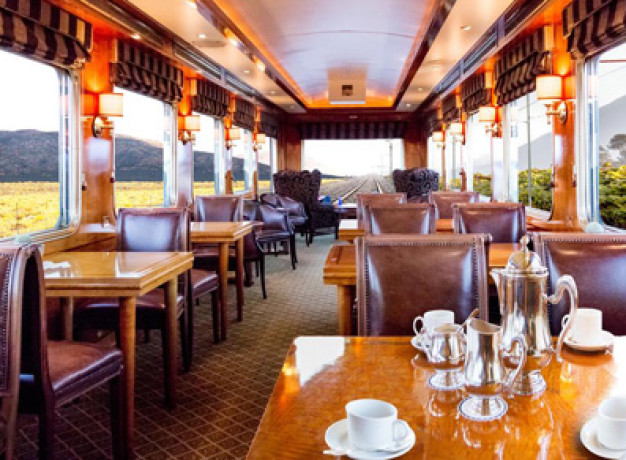 50% discount for your partner *
The Blue Train Luxury Cabin - Cape Town to Pr...