Trip Summary
Group size: Based on Minimum 2 passengers
Departs: Daily
..................................................
Adjacent to the Greater Kruger National Park, within the Thornybush Nature Reserve is Thornybush Game Lodge. The lodge provides accommodation consisting of stylish air-conditioned suites, with extensive living areas overlooking the seasonal Monwana River. There are 18 suites, 2 family suites and accommodation caters for a maximum of 40 people. Each suite has en-suite facilities, outdoor shower and private decks, sweeping vistas over the savannah and ever active water hole can be enjoyed. Warm African safari evenings under the stars make Thornybush Game Lodge an ideal home away from the world. The sheer enjoyment of un-spoilt nature, the invigorating air and the open vistas, will leave you relaxed and energised for your return to civilisation.
Dates and Pricing
Disclaimer:
Prices shown are per person based on twin share. Seasonal supplements and minimum night requirement may apply. Solo traveller and extra night prices available on request. Luggage restrictions may apply. International flights not included.
We're loading your experience...
Reviews
Words can't give Bench justice!!
Bench is the only way to travel Africa!
From the beginning, right up to when we returned home, everything was perfect and the small personal touches were everywhere!
I asked a thousand questions & my consultant had a answer for everything! I got a very special pack for my documentation approx. 2 weeks before I departed on our tour. Bench put together a day by day personalised itinerary to take on the trip with me.
We were in Africa for about 10 days staying in the most spectacular properties. Our first stay was Camp Jabulani. This was beyond amazing! A great start to our trip! The personal touches & the food was something the lodge took great pride in. If you are going to South Africa, this property is a must!!
After this we traveled to Makutsi for three nights. This is a beautiful, family-feel lodge! There was no Wi-Fi or TV's in the rooms, which was my favorite part! We would wake up and there would be Impala's at our front door, it was amazing! The staff were incredible & extremely helpful! It is in the perfect location & would be amazing for groups or families!
After this we traveled to Thornybush Game Reserve and stayed at Shambulala & Thornybush Game Lodge. Both are spectacular!
Shambulala was my favorite during the trip. Their attention to detail, and again the personal touches were everywhere! We first walked in the door and they already knew our names & never forgot them during our stay. We had a host for the time we were there. She was incredible and made our stay all the more special. The food, again, was absolutely amazing! They made a simple pear salad into the nicest meal I have ever eaten! It is the greatest place to relax as their pool faces out to the Game Park, you can just watch the animals walk by you! I cannot speak highly enough of this lodge or the staff, it was incredible!
After this we headed out to Thornybush Game Lodge, this is another beautiful 5 star property in the reserve. We had a South African braai for dinner one night and it was beautiful! The staff couldn't be more helpful and the rooms were beautiful. When we first arrived, we were told there was a Leopard, that morning, sleeping on one of the decks! One thing you must know about South Africa is that you will forever be eating! All the food & fruit is just too good!
Our final stop was The Palace in Sun City. This was a fantastic end to a once in a lifetime trip! There is so much to do & see here! It is quite literally like a small city! There is the 'Gary Player' gold course, which is one of the best, a man-made beach, maze, zipline - The list goes on! Again, another must do experience while you are in South Africa! It is only a 2.5hr drive! Well worth it!
All in all, Bench is an incredible way to travel Africa! You can travel so many different ways to so many different places & do it however you would like! The reservation department were absolutely incredible, & honestly that was where the 5 star service began. They are the Africa experts!! They know every corner in Africa, so many of their experts have lived there.
I cannot put it into words how incredible the whole experience was with Bench! I urge everyone who travels anywhere in Africa to speak to Bench about their trip! It is sure to be amazing!
Grace Beal
Just Mind-Blowing
Having never been to Africa before i was definitely nervous. Turns out I didn't need to be nervous at all considering I was in the care of Bench. From start to finish Bench were so easy to get into contact with, always were able to preempt the questions I wanted to ask, and I always felt connected to them throughout the entire process from the flights to the itinerary, even to where we would all meet up together in the airport before our international flight!
The trip truly was seamless. We stayed in multiple accommodations and as an agent it was so fantastic to be able to see the difference in star quality and what each place had to offer.
Camp Jabulani: What a perfect beginning to this trip. Everything was so meticulously personal and luxurious and I could not have asked for a better way to kick off Africa.
Nungu Camp: Lovely homey shared feel to this camp. Very basic accommodation, shared bathroom/showers and eating/cooking spaces but everything was kept so incredibly clean. Due to the nature of the camp definitely be aware of bugs and insects and creepy crawlies and have the Rid handy! Ruan and Tina who run the program are so passionate about what they do that you can't help being passionate about it as well, the atmosphere they created was warm and inviting and the food they made for us while we were there was delicious!
Makutsi Safari Springs: A good 3 star property for families that want to have the experience of Africa on a controlled budget. Family rooms were lovely and clean and spacious, with traditional south African cuisine being cooked and served up in a relaxed atmosphere in the combined dining area. Absolutely gorgeous outdoor bar and viewing area. Just be aware that if you are expecting a lot of amenities and wifi in the rooms that this is potentially not the place for you, and this is not what Makutsi are trying to market themselves as either. They want everyone who comes to their lodge to swim in the incredible springs, to play some outdoor tennis, and to spend their days socialising off their phones.
Shumbalala: Probably my favourite place that we stayed. The villas were perfectly appointed, the staff were so welcoming and remembered your name and drink order. They were a 5-star with such a laid back feel, lounging by the infinity pool after the morning game drive was an experience I will never forget that's for sure! The food was incredible and so generous in the portions, and the beverages and beautiful souvenirs were incredible well priced.
Main Lodge at Thornybush: Rooms are newly renovated and absolutely beautiful. Food is buffet style and so very tasty and well prepared. the grounds are gorgeous and the room I was in had an amazing deck with a lovely view.
The Palace Sun City: Rooms are lovely however this property is definitely about what to do on the property rather than spending time in your room. From the man-made beach, adults only pool area, children's pools and waterslides, day spa, two golf courses and a labyrinth that leads in to a bar - you will never get bored! So many choices of restaurants and the breakfast buffet was phenomenal!
I honestly don't think it would have been the experience that it was without Bench. Travelling with Lara our host was like travelling with a bestie, and Bench had us organised with tips and meals and what to do and what to pack from the very beginning and it was a totally stress free trip - one that I would repeat in a heartbeat so long as I could go with the same people and have Lara as our host again. Loved it!
Rebecca Forster
Destination: South Africa
Bench South Africa
I visited South Africa with Bench from 1-10 March 2017.
The trip was fantastic planned to perfection. The accommodation and experiences booked were perfect. They no South Africa.
Cannot speak highly enough of service levels, quality of the accommodation.
The knowledge of the guides and trackers were first class, can thoroughly recommend this trip.
Bench your the best!!!
Bob Andrews
Destination: South Africa
South Africa March 2017
Bench Africa was absolutely amazing. Travelled to South Africa in early March. I would recommend any type of traveller to Bench. Very professional and nothing was ever an issue. All guides and trackers were very experienced and professional and made the game drives an experience i'll never forget. Lodges were all very professional and could not fault anything about it. Thank you for making my Africa trip the holiday i have ever been on. I will be back!
Stuart McAlpine
Destination: South Africa
Interested?
Send us an enquiry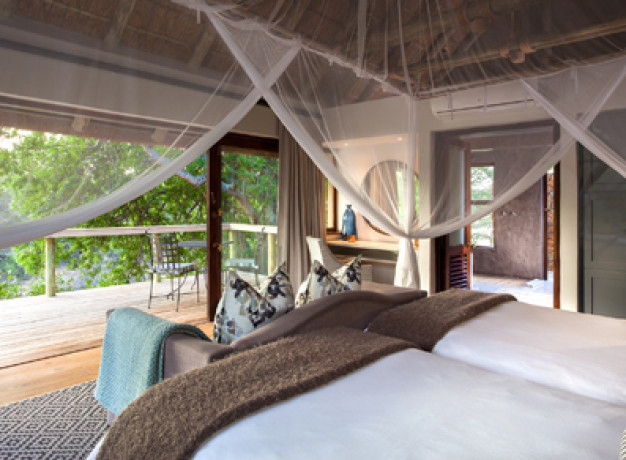 Thornybush Game Lodge