Etosha National Park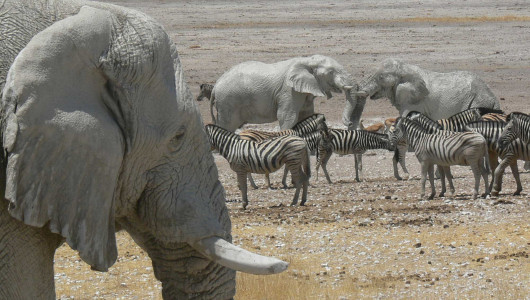 Namibia's best-known tourist attraction, and one of the most interesting game reserves in the world because of its unusual terrain, Etosha is a combination of dried lake (salt pan) in the north and grasslands, dense brush and open plains in the south. Etosha National Park is one of the largest and most impressive game reserves in the whole of Africa. The Ovambo name Etosha, means "place of dry water" - and the reserve was named this because of the vast, shallow salt pan which shimmers a silvery bright-white, from salt across its entire surface. Almost all African animal species are represented in the nature reserve. Well maintained gravel roads lead to watering holes, where game viewing is best. The water-holes, scattered throughout this area, are the basis of life for countless wild animals. There are an estimated number of 300 lions in the park, 300 rhinos, 2000 giraffes and 1500 elephants. The Etosha Park is about 400 km north of Windhoek.
The park is open all year, but the best time to visit is August-September.
Check out our Trip Planner for more information on travelling to Africa.