Victoria Falls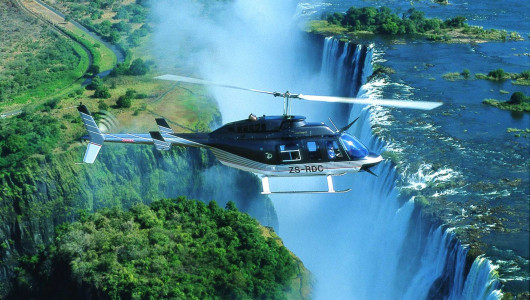 Also known as Mosi-o-Tunya, 'the smoke that thunders', Victoria Falls straddles the border between Zambia and Zimbabwe, the Victoria Falls are a breathtaking feature of southern Africa, and a must-see on your next holiday. Stand in awe before the power and beauty of the falls, the shimmering waters forming a misty veil which transforms into turbulent white waters at the base of a sheer chasm.
You can make a visit to Victoria Falls part of your African itinerary with one of Bench Africa's holiday packages. Here's why it is one of southern Africa's most special sites.
About Victoria Falls
The falls are fed by the Zambezi River, which runs through four countries on its route from Zambia out to the Indian Ocean. Swelling to a width of two kilometres, the Zambezi cleaves a natural border between Zimbabwe and Zambia, taking a dive over 100 metres in the spectacle of the Victoria Falls.
This incredible curtain of water, flowing at a rate of 500 million litres per minute is one of the world's biggest waterfalls. Victoria Falls was christened Mosi-oa-Tunya by the Kololo tribe in the 1800s - 'The Smoke that Thunders'. A magical mist up to 500 metres high can be seen rising from the falls in a spray plume from up to 50 kilometres away.
It's no surprise that Victoria Falls has earned its place as one of the seven Natural Wonders of the World. Thanks to its unique geographical properties and astounding natural beauty, Victoria Falls has also been named a UNESCO World Heritage site. In particular, the falls are renowned for their breathtaking rainbows, arcing across the falls like a technicolour bridge.
Visiting Victoria Falls
A frontal view of the falls can be seen from both Zambia and Zimbabwe, meaning that there are a number of ways for you to experience the majesty of Victoria Falls. This spectacular site is situated within the Victoria Falls National Park, where animals such as antelopes, vervet monkeys, warthogs and banded mongeese roam.
The ominous-sounding Devil's Pool, located on the Zambian side of the falls, lets you swim on the lip of the falls with one of the most incredible views imaginable.
Just a few minutes' walk away you'll find the town of Victoria Falls, the tourist hub for information and a range of exciting activities on offer. Here you can arrange anything from adrenalin-pumping bungee jumping, white water rafting, canoeing and abseiling, to horse trails, sunset cruises and breathtaking flights over the falls.
Why not experience the rich culture of the area? Meet the locals on a rural village tour. Dine in a traditional boma while a blazing bonfire lights the night sky. Sample local cuisine and watch as traditional dancers dance to lively bongo drums. Learn about the entrancing rituals and listen to historic stories that paint a vivid picture of the past.
There are a number of ways to visit Victoria Falls, but with Bench Africa you can be assured of an incredible trip, planned by our expert travel agents both in Australia and on the ground in Africa. If you are travelling on an Australian passport, you will need a visa to enter Zambia and Zimbabwe. Talk to one of our Bench Africa travel specialists to start planning your trip today.
Check out our Trip Planner for more information on travelling to Africa.