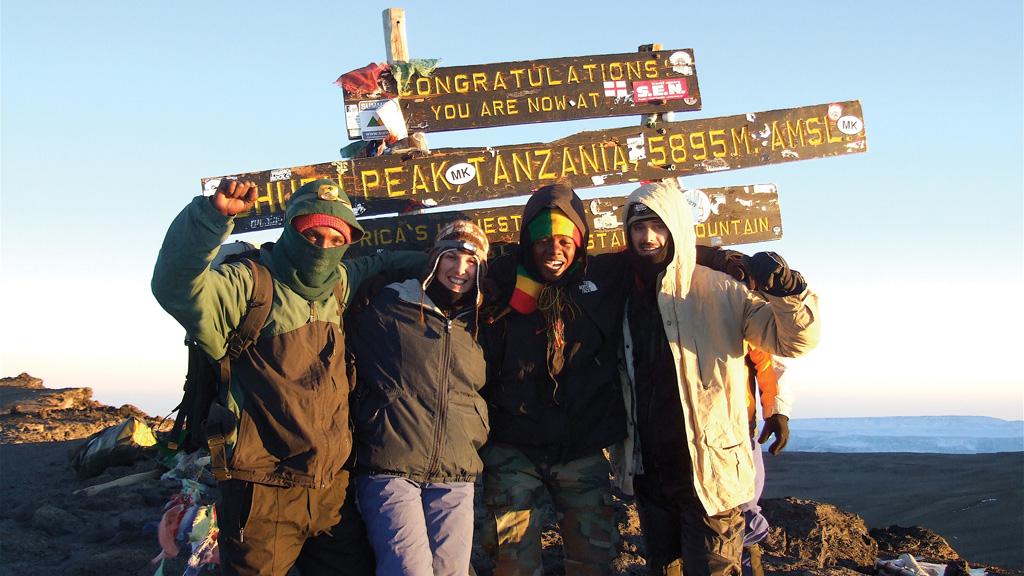 Specialist Travel
Module : Leopard
Video 2
Rail Journeys | private aircraft | horse-riding safaris | walking safaris 
Africa is home to a wide variety of specialist travel opportunities. Given the size, diversity and history of the continent there are many different methods of travel people can choose to explore these lands. We did mention the minivan, 4WD and Botswana mokoro (canoe) earlier and will look at some other ways of travel.
Africa is home to a few famous rail journeys and even the top two most luxurious train journeys in the world. These are a taste of old world colonial travel with crystal and china table service and a peaceful way of watching the world go past.
The Blue Train is a modern approach to this way of travel. Featuring old world decoration on a modern train chassis this train runs a journey between Cape Town and Pretoria, a 27 hour journey in luxury. Presidents and Kings have travelled on this train and it is a lovely way to travel between the different areas of South Africa.
The Rovos Rail utilises the old carriages and is billed as the most luxurious train journey in the world. Running three itineraries from Cape Town – Pretoria, Pretoria – Victoria Falls and even a Cape Town – Dar es Salaam 14 day journey across Africa. This is luxury refined and a different way to travel across the continent.
The Shongololo Express is a hybrid of train journeys and cruising. Although not to the same standard as the Blue Train or the Rovos Rail it involves travelling by train at nighttime and during the day taking excursions with the vehicles kept on the train, almost like a land cruise.
Popular in places where road transfers can be long, difficult or even impossible (i.e. the Okavango Delta) private aircraft trips can be connected or even created for clients wishing to maximize their time on the ground in camp. In East Africa the major reason for a private aircraft safari can be due to the quality of the roads and a private plane will help you avoid an "African massage". By simply flying from camp to camp the plane will help you to spend the most amount of time in the places you really wish to.
In other places such as Namibia it is the scale of the country that makes these private planes popular. With a country as vast as Namibia and its attractions spread out across the length of it a private plane safari can help to reduce the amount of time it would take to see them all.
In somewhere like the Okavango Delta it isn't feasible to use a car due to the amount of water and the difficulty in traversing such a wetland. Flying directly into the camps enables you to reach some really out of the way locations amongst the wildlife.
Many camps offer the option of a flight transfer in and out and by stringing these together you can create your own version of a private air transfer. There are other weekly departures that offer a fixed itinerary where all you have to do is show up. These planes also tend to have high wings with movable chairs so you have an uninterrupted view of the landscape and headsets enabling you to speak to the pilot as you fly around. It really is the ultimate way to get around.
A very traditional way to see Africa, horse-riding safaris have made a bit of a resurgence in recent years. Whether it be based out of the one lodge with daily horse rides or riding between camps it is a great way to feel connected to the environment and to see the world a different way. When you are on horseback the animals don't associate you with the shape of a vehicle or a human which enables you to often get closer to some of the more skittish or aggressive animals (i.e. Rhino). From atop the horse you get a natural experience as the smell of the horse helps the animals to relax in your presence and you can get a great close encounter.
Whether you be an expert or a beginner there is a trip for everyone.
The spiritual home of the walking safari is in Zambia although game walking is practiced in quite a few countries in Africa. Whether it be an addition to your normal game drives at some lodges or a specialised trip, getting down to ground level and amongst the landscape gives you a different perspective. Hearing the animal noises and see the minutiae of the animals tracks and small flora helps to really immerse you in the environment. Once again, you have the option to walk out from the camps for day walks or to walk from camp to camp on a mobile walking safari. It really is a great way to see the African bush.
If you are wishing to do some more trekking them of course Africa has large mountains to climb in the form of Mt Kilimanjaro and Mt Kenya. Mt Kenya is a more technical climb whereas Mt Kilimanjaro can be done without any prior experience. There are a variety of climbs of varying lengths and it is important to make sure that the trek you decide to do has enough time to let you acclimatise fully to maximise your chances of summiting. Some treks will involve overnight stays in huts up the mountain but the vast majority are camping treks.
back to all videos