Styles of Travel in Africa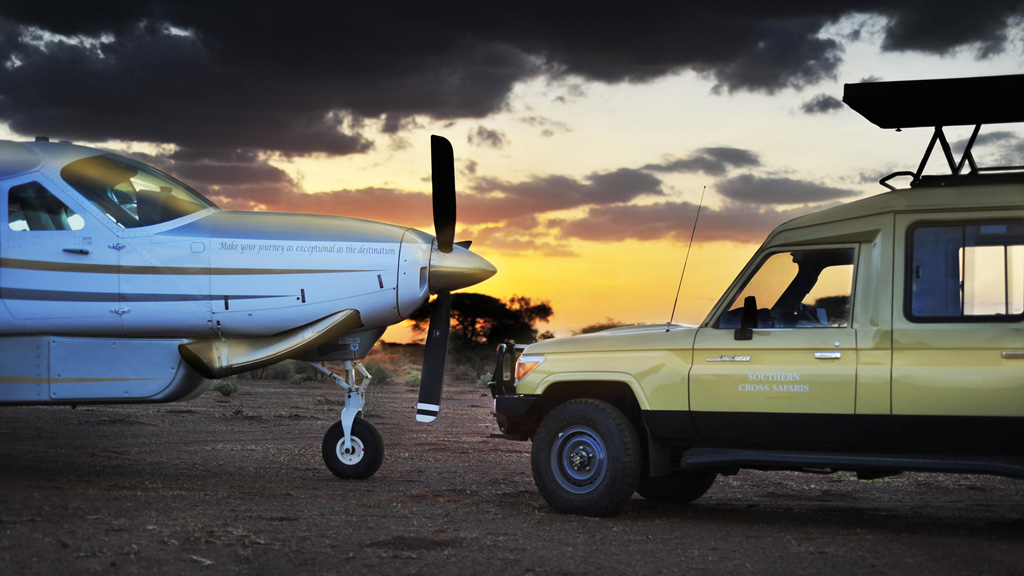 Styles of Travel in Africa
Module : Buffalo
Video 20
The African experience does differ between the different countries and different areas of Africa due to the size, accessibility and mode of transportation. The options on how you choose to see Africa will change depending on the area you wish to visit and the particulars of that area.
Generally we'll talk about three of the most popular styles of travel you'll see in Africa.
Tailor made travel

|

Small group travel

|

Escorted tour travel
Before we get into that, we should also point out that there are two other types you may see around.
Africa Overland
One of those is called "overlanding" in which you will be onboard a converted truck and travel each day from place to place. You will camp in a portable pop up tent most nights and play a part in cooking your meals, cleaning, shopping for food in the towns etc. These trips also tend to go for longer durations (16 days to 70 days) and often cover large distances. The advantage of this trip is that it is generally cheaper (due to the camping and work involved) and you do get a general overview of a large number of areas. The disadvantage is that you only get an overview of those areas and generally your safaris suffer from a lack of detail (see later for levels of travel). There are large amounts of travelling involved as well as a lack of local knowledge that hinders your animal sightings. On top of that you have to pay as you go for most things meaning you end up taking large amounts of money over there for activities and water etc. as you go. The cheaper trip can work out to be far more expensive than people realize.
The other option is to completely self drive the entire continent. Whilst some areas are open to self driving (South Africa, Namibia etc.) most of it is not ideal.
It isn't easy to navigate from A-B in Africa and the traffic and road conditions can be extremely difficult. Add to that the stress involved and the fact that when you are driving through a National Park it is also hard to keep an eye out for the animals and you can see why most people choose not to do this.
Escorted tours are the bigger style tours that are popular with travellers in Europe. Generally they are larger groups (Bench has a max size of 18, others go up to 40!) that have the element of "hand holding" where the tour escort may even leave and return to Australia with the group. We only have a limited number of these tours for Africa as most travellers prefer something a little more flexible and personalised.
Small group tours are as the name implies: Small groups of travellers doing a set itinerary with a guide assisting along the way. This style of travel is great for people who maybe want to string together a series of tours (they most commonly run from 7-10 days) with someone assisting them along the way. It means that everything is organised for you but you still have the small size to spend time with the driver/guide and not feel like a tourist.
Tailor made is a personalised itinerary that has been constructed for those clients. In Southern Africa it is a collection of hotels, lodges, day tours, transfers and flights to make a unique experience. In East Africa it is similar but also the use of a personal driver/guide that the clients have to themselves. This is the most popular option in Africa with most clients tailor making all or at least some of their holiday.
To decide what style suits you best, it is also important to know what style best suits which area.
East Africa is the home of "old school Africa" (as mentioned earlier). Unfortunately this also means the roads and traffic can be very antiquated with bad conditions, traffic snarls and some difficulty getting from A – B. In East Africa you will generally take on a driver/guide to assist you in the form of a small group tour or a tailor-made trip. The accommodations standard also tends to skew higher or lower with lots of camping or 4-5 star accommodation and not much in the way of 3 star options.
Southern Africa has great road conditions (on average) and good flight connections. Generally in Southern Africa you will choose an itinerary and then simply connect the dots with flights and transfers. In South Africa and into Namibia people often choose to self drive as an alternative. This area tends to have a wide range of accommodation suiting all clientele.
Small group tours can be combined to create a tailor-made tour for a client but it is important to make sure the small group tour is actually small. Often companies will try and market their 28, 30 or 40 person tours as a "small group" (which is it compared to their European tours) but this has a major impact on the experience. Apart from the obvious fact of the larger amount of people around you are also restricted to the lodges you can visit as they have to be able to cater for larger groups. If you are stuck in the larger camps (as nice as they may be) you miss out on the experience of the personalised service and the feeling of being amongst the wilds of Africa and not just another tourist. This is a small but important thing that people don't realise when they look into small group tours.
Our experienced Africa consultants can help to tailor make an itinerary that suits your expectations, as well as you budgetary requirements.
Feel free to explore the rest of our Safari School videos for more tips on travel through Africa from our Africa travel specialists. 
back to all videos