Lalibela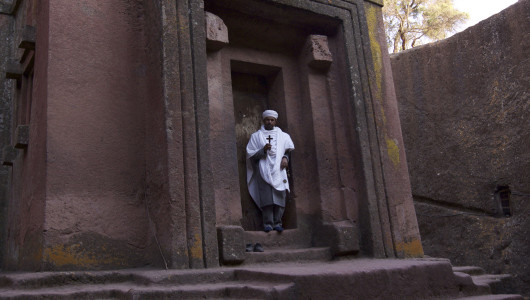 Lalibela is one of the 'must-see' sites of Africa. Quite unlike anything elsewhere, it is a world apart, frozen in time. Still comparatively untouched or unvisited by outsiders because of its remote location, it is an extraordinary experience to rub shoulders (often literally) with pilgrims, priests and residents in a place that retains such authentic character.
Lalibela is a town in the Amhara region of northern Ethiopia and a UNESCO World Heritage Site. It's known for its distinctive rock-cut churches dating from the 12th and 13th centuries, which are pilgrimage sites for Coptic Christians.
At the end of the 12th and beginning of the 13th centuries King Lalibela of the Zaghwe dynasty built a series of rock hewn churches, the New Jerusalem, now rightly categorised as one of the wonders of the world.
There are 11 churches within the town named after him, and outlying churches (recommended are Ashetun Mariam and the cave church of Yemrehane Christos) that can be visited on a second day. All are still in use today. It is estimated that the churches in Lalibela took 25 years to construct – for the Kingdom based on Roha (later renamed Lalibela) to have kept a large work force engaged in economically unproductive labour for such a long period means that it disposed of a large economic surplus and was very wealthy.
The area then was clearly fertile and agriculturally productive, whereas now population pressures, deforestation and other forms of ecological degradation have reduced its productivity and made it prone to drought.
Amazingly the Rock-Hewn Churches of Lalibela are still preserved in their natural settings. The association of the rock-hewn churches and the traditional vernacular circular houses, in the surrounding area, still demonstrate evidences of the ancient village layout.
For centuries, the Church and State have been jointly responsible for the holy site of Lalibela. Home to a large community of priests and monks, it is a living site which draws many pilgrims to celebrate the great feasts of the Ethiopian Christian calendar. This active and energetic perspective is central to the management of the site.