Okavango Delta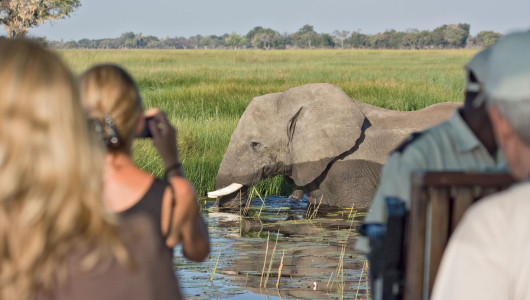 If you're looking for a truly remarkable wildlife experience in one of Africa's most scenic landscapes, look no further than the Okavango Delta. Set in the heart of northern Botswana, this special area is home to a myriad of different animals who live in the wetlands.
On an Okavango Delta holiday experience with Bench Africa, you can look forward to exploring the waterways on a mokoro canoe, as well as soaring above Botswana on a scenic flight. Here's what you should know about this incredible Botswana highlight.
About the Okavango Delta
What makes the delta is unique in that it is still in a remarkably pristine state. Minimal development and Okavango Delta tourism has helped to preserve the wetland area in a virtually untouched condition, providing visitors with a surreal, immersive experience.
As you fly over the Delta, you can get a real feel for its expansive size - covering some 600,000 hectares, this great body of inland water flows out in a fan, carrying water to the Kalahari Basin. Thanks to the important role it plays in Botswana's ecosystem, the Okavango Delta also boasts the title of a UNESCO World Heritage Site, making your visit all the more special.
The local wildlife of the Okavango Delta is perfectly adapted to live in this special part of Botswana. Even when the winter floods transform the surrounding grassland into a lush wetland , the animals are fully equipped to survive and thrive here.
Some of the wildlife that populates the Delta includes a range of birdlife, as well as fish. However, you'll be interested to know that a number of larger mammals also make their home here, with inhabitants from buffalo, hippos, wildebeest, to big cats like lions, leopards and cheetahs.
Generally, the floods see animals graze further afield from the Delta, benefiting from the richness of the wetlands before returning as water levels recede.
Visiting the Okavango Delta
While it might seem like a mission to reach the Okavango Delta, getting there is simple with Bench Africa. On our Northern Experience tour, you'll have the chance to experience South Africa, Namibia, Zimbabwe and Botswana, which includes two nights in the Okavango Delta.
When you plan your adventure with Bench Africa, you know you're safe in the hands of our experienced travel experts. Not only do we have a passion for our destinations, they have first-hand knowledge of various African countries, working closely with our offices on the ground in Africa to ensure you have an incredible trip.
Check out our Trip Planner for more information on travelling to Africa.