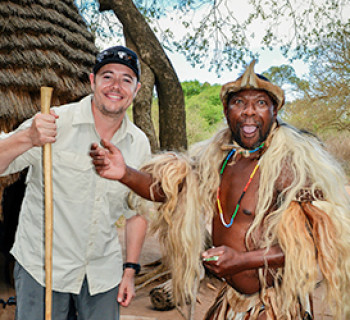 Graham Werner
Tell us about the first time you travelled to Africa
In 2013, I travelled to South Africa with a small group, exploring Cape Town's Bo-Kaap and Boulders Beach, Table Mountain, and Robben Island. However, the absolute highlight was staying at Tinga Lodge in Lion Sands Game Reserve, where we saw elephants, buffalos, lions, and more up close. As someone who loves wildlife documentaries, seeing these magnificent animals in person was truly a once-in-a-lifetime experience.
Tell us about your most thrilling wildlife encounter
The memory of my first encounter with a male lion on a game drive in the Kruger still gives me goosebumps! This magnificent creature's sheer majesty and power left me breathless, I had to keep reminding myself to breathe and I did wonder at the time if he could hear my heart pounding in my chest. What a thrill!
Bio
After a two-year break from working as a BDM in the travel industry here in Queensland, I heard about a possible role with Bench Africa. These two words, BENCH and AFRICA, are synonymous with everything I love about the travel industry – Africa is my absolute favourite destination on planet Earth, and Bench has an incredible reputation here in Australia for its customer service, expertise, and product delivery. It was a match made in heaven, and I feel blessed every day to have joined the 'Bench Africa pride'.
Before working for Bench Africa, I spent 15 years as a State Manager for Australian Pacific Touring and Travelmarvel. Over the last two years, I started my own photography business on a break from the industry. Travel and photography go hand in hand.
Since joining the Bench Africa team, I've been busy familiarising myself with the incredible diversity of tours, accommodation choices and available countries to visit. I'm amazed at the expertise and passion of our staff, each an expert in all things Africa travel.
Email Me
My Top 5 Experience Recommendations