From overland camping to luxury lodges, there are a variety of options when travelling to Africa. One thing is for sure, African safari travel has come a long way in the 51 years that Bench has been operating, but it hasn't lost any of its romance and adventure. Many of the lodges are reflective of that original and authentic safari experience, with their grandeur and opulence. In contrast, others have taken a more modern approach and gone with clean, modern lines. Many lodges have really moved down the eco path with properties and vehicles running entirely on renewable energy. All this means is that there is something for everyone. 
The hardest thing about this list was choosing only 5 lodges to feature but here are some of my favourite luxury lodges in Africa!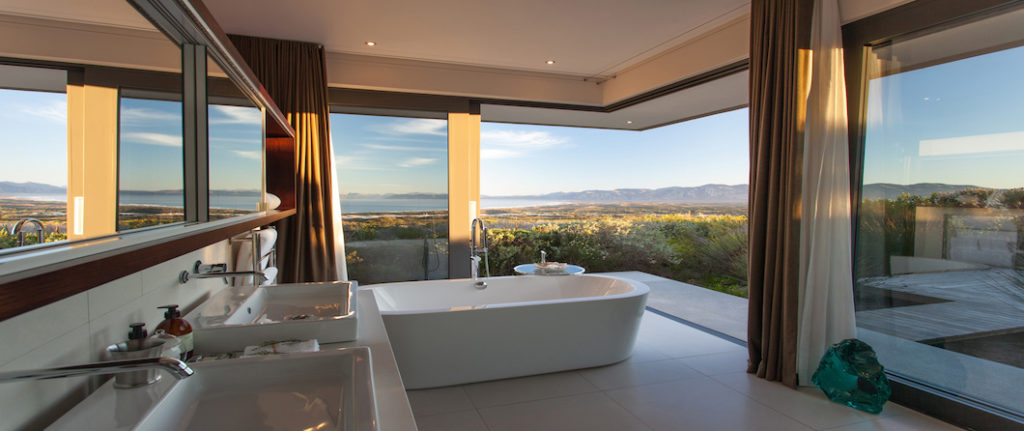 Grootbos Private Nature Reserve—South Africa
A melting pot of biodiversity, culture and natural wonder Grootbos Private Nature Reserve is one of National Geographic's Unique Lodges of the World. Located 2 hours from Cape Town, the property sits between the ocean and the mountains. Grootbos does not offer the typical safari experience like other lodges but has unique activities like marine safaris, botanical tours and bird watching.
Grootbos offers three unique accommodation areas: Forest Lodge, Garden Lodge, and the Luxury Private Villas. The Luxury Private Villas are perfect for a family with one 4-bedroom villa and one 6-bedroom villa. A personal chef will prepare your meals at your leisure while your personal guide will curate a bush experience perfect for you.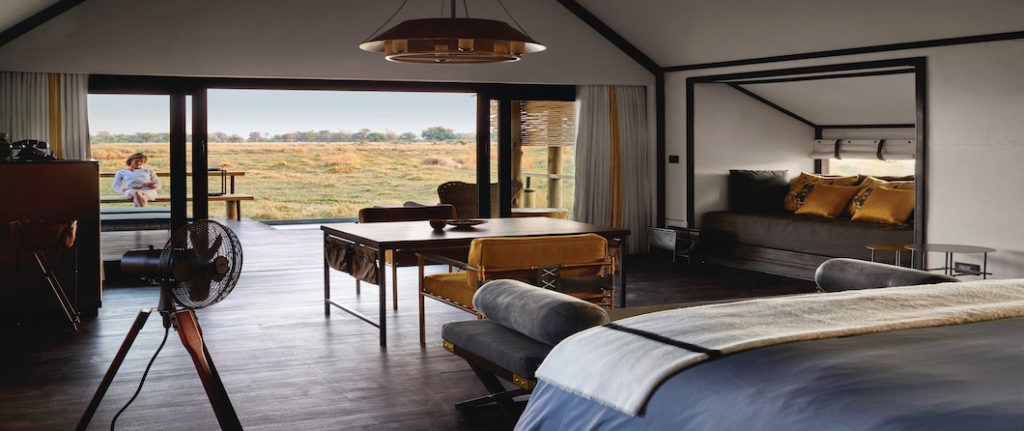 Belmond Eagle Island – Botswana
Situated on a private island in the heart of the Okavango Delta, Belmond Eagle Island Lodge brings timeless luxury to the Botswana wetlands. There are 12 tents in total on the island, with each high-ceiling tented room offering ample light, indoor and outdoor showers, a full bath, views of the delta and its own private plunge pool.
The lodge offers a variety of activities including motorboat safaris, barge cruises, mokoro safaris, horseback safaris and fishing as well as the ultimate luxury experience of a safari by helicopter. The lodge has recently been almost totally rebuilt but still keeps that old-world charm it's known for.
You could combine this lodge with two other Belmond properties in Botswana for the perfect 7-day experience.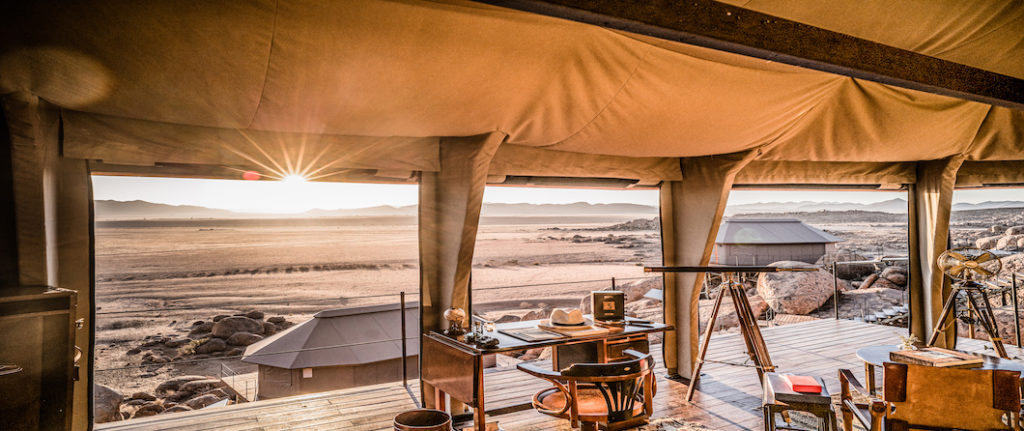 Zannier Sonop - Namibia
Sonop is a luxurious, colonial-inspired, tented camp located on the edge of the Namib desert. With stunning panoramic desert landscapes and constructed on top of 10 boulders, the 10 spacious tents aim to offer a unique journey through time.
Wake up with tailored yoga experiences, explore the desert on foot, electric bike or horseback, and finish the day with a fine dining experience as you watch the sunset over the desert. The private reserve the property sits on is home to free-roaming animals, including leopards.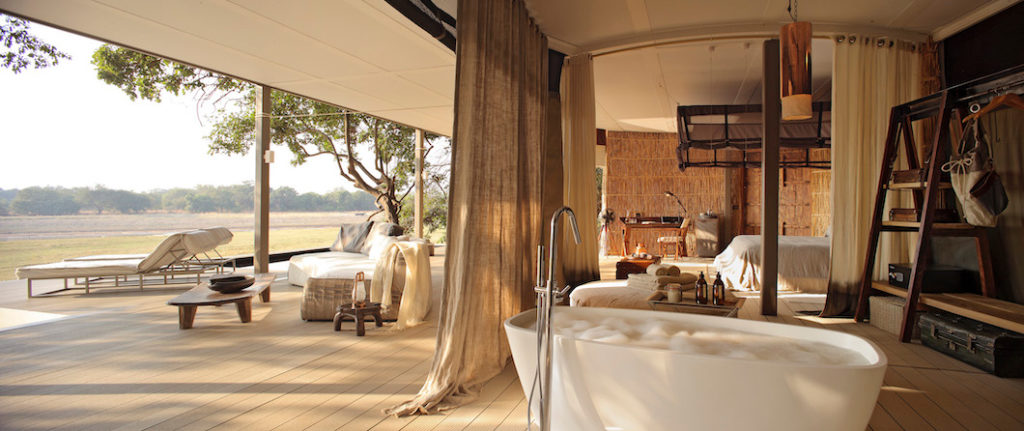 Time + Tide Chinzombo – Zambia
Chinzombo is situated on the sweeping curve of the Luangwa River in the animal-rich area of South Luangwa National Park. With the river in front of the lodge and the bush behind, the location offers the perfect spot for safari. The luxurious camp retains its bush authenticity with grass and canvas walls and spacious living areas. Chinzombo offers 6 villas, one of which is a 2-bedroom villa perfect for families or small groups. Each villa has its own private pool, cooled sleeping area, and spacious bathroom.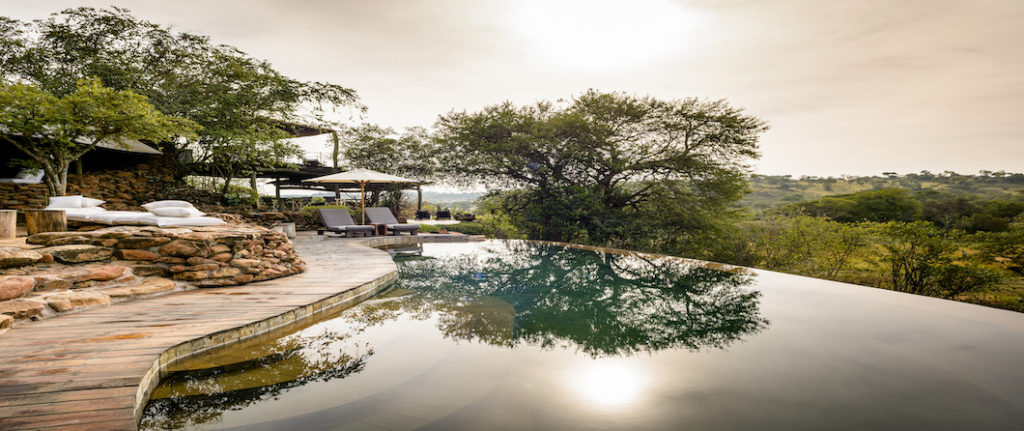 Singita Faru Faru Lodge - Tanzania
Located in the western corridor of the Serengeti National Park is Singita's 350,000-acre private reserve. Singita Faru Faru lodge looks over a natural waterhole and the tree line of the Grumeti River. The lodge has nine stone, canvas and thatched suites including one family suite. The suites have an air of a classic safari camp but with the ultimate in contemporary chic interiors.
Enjoy game drives through the animal rich Serengeti National Park or time your visit right to watch the wildebeest migration. Faru Faru also offers a unique experience for guests to visit one of the 12 observation posts dotted across the reserve. The Singita Grumeti Fund anti-poaching team comprises 120 scouts, and you can see how these scouts live and work.B
BONUS LUXURIOUS BEACH EXTENSION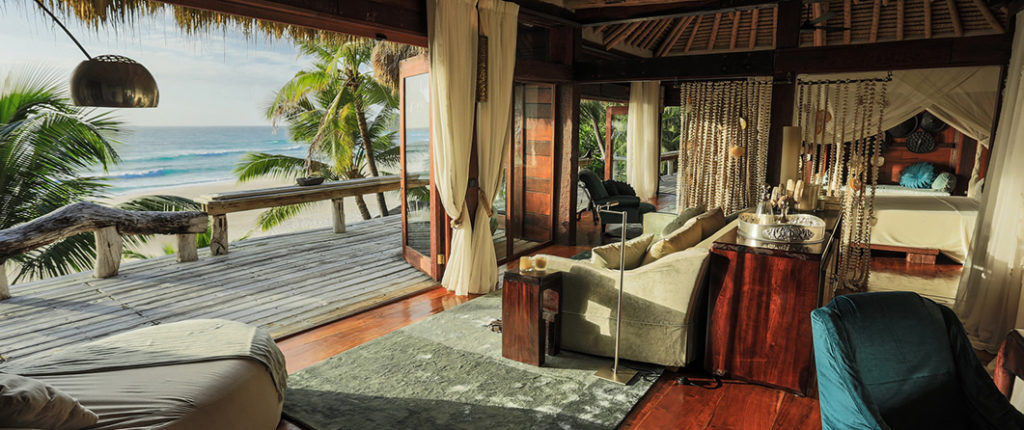 North Island –Seychelles
We all need an option post-safari for a bit of sunshine and relaxation, and while not technically a lodge, North Island is everything you need from a beachfront property. North Island is a private luxury island resort in the heart of Seychelles. It has 11 rooms in total with the Villa North Island located all by itself on granite boulders at the far end of the east beach. An island fit for a future king and queen (Prince William and Kate honeymooned here) is the perfect spot to relax and refresh.